NATIONAL
Brett Kavanaugh
President Donald Trump surprised some as he went with DC Circuit Court of Appeals Judge Brett Kavanaugh…
"President Donald Trump on Monday night named Judge Brett Kavanaugh, a favorite of the Republican legal establishment, to fill the newest vacancy on the U.S. Supreme Court, tapping a conservative figure who is likely to push the court to the right after years of seesaw rulings.
In selecting Judge Kavanaugh, a fixture of the U.S. Court of Appeals for the District of Columbia Circuit, Mr. Trump heeded the calls of his chief advisers, who emphasized the 53-year-old judge's lengthy record of conservative jurisprudence that they believe could be defended in a heated confirmation fight."  https://on.wsj.com/2N3Gxvm
The National Review seemed happy, "Judge Brett Kavanaugh, President Donald Trump's new nominee for the Supreme Court, is a whip-smart legal conservative. As a judge in the highest-profile appeals court in the nation, he has shown an exemplary dedication to the rule of law…It would be utterly implausible, indeed laughable, for Senate Democrats to try to portray Kavanaugh as unqualified. They will instead try to present him as a right-wing monster….They will call him every name in the book. But before too long, they will, as they should, be calling him 'Justice.'" http://bit.ly/2m9xBJo
Wall Street Journal says this is a throwback to a time before judicial activism, "President Trump kept everyone guessing to the end about his Supreme Court selection Monday, but in nominating Brett Kavanaugh he also kept his promise to select a Justice "who will faithfully interpret the Constitution as written." Judge Kavanaugh has an exemplary record that suggests he will help to restore the Supreme Court to its proper, more modest role in American politics and society." https://on.wsj.com/2J7Czzq
Ilya Somin says this was a pretty conventional pick for an unconventional administration, "The Trump administration has been disturbingly abnormal in many ways. But the president's nomination of Judge Brett Kavanaugh to the Supreme Court is as conventional as such selections are ever likely to get. Kavanaugh is a well-liked and widely respected jurist – and a pillar of the conservative legal establishment. I like many of his decisions, and am far more critical of others. But it's hard to argue that any of his views are outside the current legal mainstream." http://bit.ly/2u8T61n
Hugh Hewitt says Kavanaugh will be Roberts 2.0, "Kavanaugh is a center-right judge who will, I believe, vote with Chief Justice John G. Roberts Jr. almost all of the time, and who can argue the center-right originalist view as easily and persuasively as the chief justice. Just as I described another name on the final list, Judge Raymond Kethledge, as 'Gorsuch 2.0,' I think it is accurate to describe Judge Kavanaugh as '"Roberts 2.0.'" https://wapo.st/2KXcEQ0
David Fench says Trump picked the wrong Juge, "There was a moment, in the early afternoon of July 9, when conservatives contemplated the delightful possibility that they might witness the best possible version of President Trump — the man with the will (and flair for the dramatic) that would allow him to be bolder than the average Republican president. The best version of Trump would have been nominated Amy Coney Barrett to the Supreme Court. " https://wapo.st/2m5DQOr
Democrat Opposition is Already Pathetic…
Democrat Senators Ed Markley & Cory Booker are already getting behind a crazy conspiracy theory that Trump selected Kavanaugh because he is the only justice that doesn't believe a president can be indicted…
Exhibit A: Ed Markley. "Brett Kavanaugh was the only nominee on Trump's shortlist who has written that a sitting president should not be indicted. It's not a coincidence that he was selected. #SCOTUSpick #WhatsAtStake"
Antonin Scalia's son, Christopher Scalia, explains why this is insane, "The theory implies that Kavanaugh said that *the courts* should protect a president from such situations. But in fact, it's clear that Kavanaugh says that only *Congress* has the authority to do so…The reason many on the left interpret it to mean that Kav would protect Trump comes down to the familiar differences about a judge's job: they believe judges *should* make law; they would want their own favored nominees to do so, and they project that desire onto all judges…"  http://bit.ly/2KKBjbc
Oops Women's March, Oops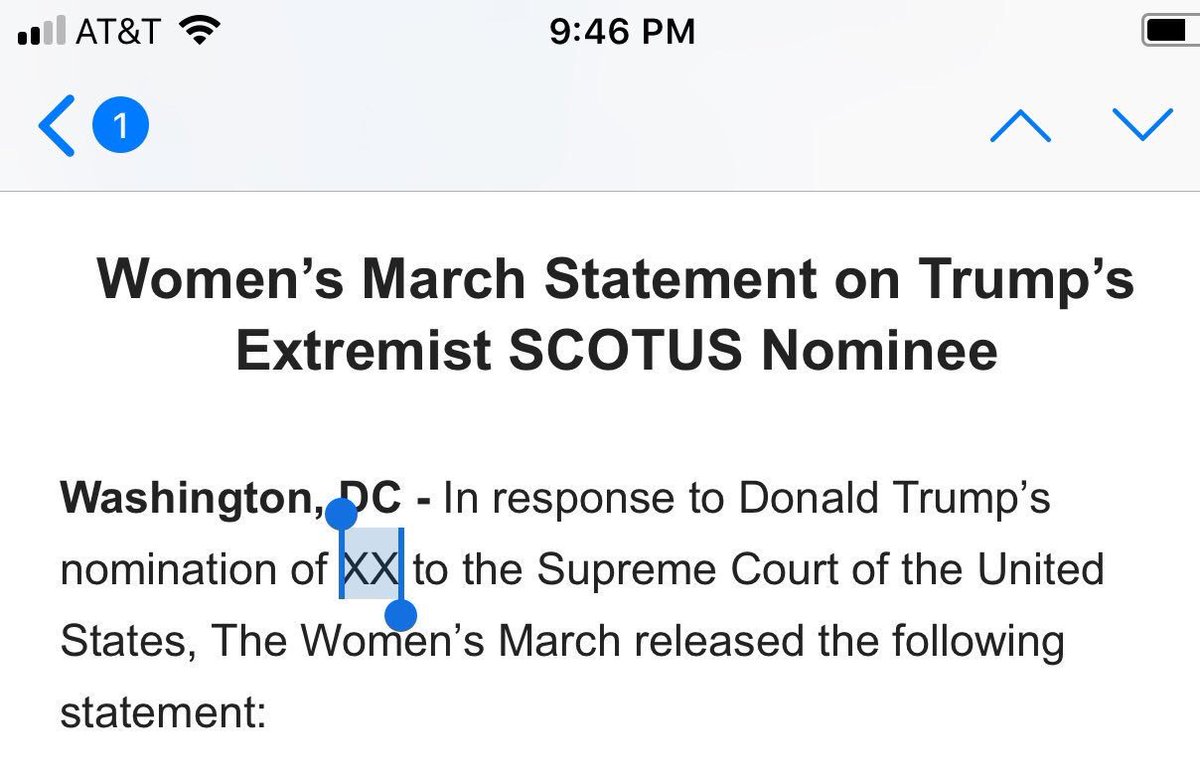 Tyler's Thoughts
"I'm impressed with President Trump this morning.  Trump saw the political minefield ahead and choose not only the most qualified person but also the person who had the best shot at getting confirmed.  We will spend the next few days going through his previous opinions and rulings, but from an optics perspective this is a home run."
---
In Other News
The Trump administration's latest blow to Obamacare is rattling health insurers as they draw up rate proposals, sparking new worries about huge premium increases just before midterm elections…https://politi.co/2L2pXyI
A new study from the Fed shows that inflation is rising along with expectations. the Federal Reserve Bank of New York said that the public expects inflation to rise by 3% both a year from now and three years from now…https://on.wsj.com/2m3zXcF
---
North Carolina
What's Next for Gerrymandering?
With the pick of Brett Kavanaugh, things could change or not change dramatically in North Carolina…http://bit.ly/2m2HqsC
SEEMS LIKE JUST YESTERDAY: In June, the Supreme Court tossed a partisan gerrymandering case back to a lower court.
ALL OF THEM: The Supreme Court threw all three cases that came before it last year back to the lower court.  Besides North Carolina, cases in Maryland and Wisconsin were sent back to the minors as well.
SMOKING GUN: Some argue that North Carolina's case, in particular, is perfectly suited for a SCOTUS decision.  Why?  Because of David Lewis.
DAVID LEWIS: Rep. David Lewis, a leader of the redistricting process that led to the 2016 congressional districts, said that "I propose that we draw the maps to give a partisan advantage to 10 Republicans and three Democrats because I do not believe it's possible to draw a map with eleven Republicans and two Democrats."
LOWER COURT DECISION: Fourth U.S. Circuit Judge James A. Wynn wrote, "A partisan gerrymander that is intended to and likely has the effect of entrenching a political party in power undermines the ability of voters to effect change when they see legislative action as infringing on their rights. We agree with Plaintiffs that a wealth of evidence proves the General Assembly's intent to 'subordinate' the interests of non-Republican voters and 'entrench' Republican domination of the state's congressional delegation."
SWING VOTE ROBERTS: Where does the new swing vote on the court stand?  Roberts referred to the "efficiency gap" calculation (aka the Rosetta Stone for Democrats) during the Wisconsin trial as "Sociological gobbledygook"
Tyler's Thoughts
"If you support partisan gerrymandering or not a court made up of mostly originalists will benefit the will of the people.  Conservative justices, when it comes to redistricting, mostly believe in judicial deference.  Which means they believe the state legislature should decide.  If the state legislature wants more equally draw districts, they can have that. If the party in control wants a bigger advantage at the next election, that's up to them.  Most originalists see redistricting as a political power held by the state legislature and it's not likely they will change that view no matter how egregious the Democrats (North Carolina) or Republicans (Maryland) claim that it is."
---
In Other News
Pender County State Representative Bob Mueller is retiring from his state House seat, "I'm 86 years old," Muller, R-Pender, said in a farewell speech on the House floor. "If I ran and was elected, I'd be 88 in my next term."  He said in his floor speech — and in an interview Monday — that his retirement is permanent and that he does plan to kick his feet up and relax.  "I said, 'This is it. I'm capping it now,' " Muller said. http://bit.ly/2ukFAXP
A new study has found that wind turbines standing on 22,000 acres of North Carolina farmland do not interfere with a Navy radar system.  However, it wasn't all good news, "The Virginian-Pilot of Norfolk reports the study by the Massachusetts Institute of Technology also said a developer should not expand the 104-tower Amazon Wind Farm to 150 turbines as originally planned." http://bit.ly/2m6pU6R